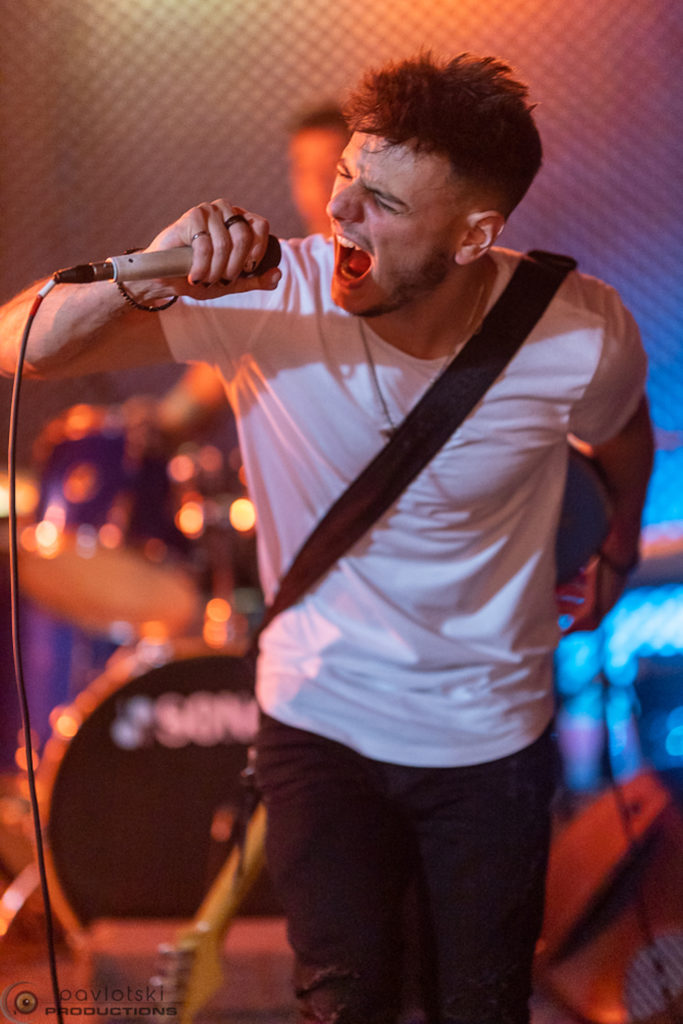 Shattering relationship ideals and their lingering effects on the psyche, Canadian rocker Chris Nine looks left at angst and right at pure adrenaline for his raucously rebellious, fully super-charged pop-punk new single and video, "ghosts" — https://youtu.be/gF7lhGMofNw

Taking a bayonet straight to the heart of the perilous emotional expedition that is love, and the raw vulnerability it takes to give it a shot, the Toronto-based singer/songwriter shares. "I wanted to embody the feelings of love with its heart-pumping feeling, juxtaposed by the heaviness it can leave," Nine says. "'ghosts' captures how that overwhelming lust for another can topple one's self-control over rationale, and open oneself up to the rollercoaster of emotion — just for the slim chance at happiness."

Featured in the likes of Tinnitist, Canadian Beats, Cashbox, Record World, Find Your Sounds, BK On The Scene, and more, the song lands as part of Chris Nine's recently unleashed post-hardcore pop-punk EP, the heavy. Produced, mixed, and mastered by Darren Benner, the video for 'ghosts' was directed and edited by Zeebrah Media's Ryan Brough.
In a blistering trio of tracks that serve deeper purpose than an all-out, high-octane sonic sojourn — in fact, they nothing short of extricated the singer/songwriter after a devastating series of events (a concussion, a breakup, and a global pandemic, to start) — the searing series of songs are a two-way mirror, stripping ego and pride away as Nine earnestly parses pain through scathingly raw and honest sonic storytelling.

From there, a polished orchestration of razor-sharp guitar riffs and stadium-filling drums deliver Chris Nine's supersonic yet melancholic musical offering.

"The songs on the heavy all resemble the past, present, and future components of dealing with relationships and trauma," Nine reveals of 'the rage,' 'fracture,' and 'ghosts.' "I was navigating this mental fog, and confronting shadows of my past. From this, the heavy was summoned; each song sheds light on the different perspectives each version of self brings to the table, and the emotions that follow.

"This EP was a way of voicing frustration and growing pains in an incredibly cramped space that was the 'quarantine,'" he continues. "I was lonely after a breakup, after losing friends, and I was feeling brain fog effects from a concussion. I felt I needed to become something new, and grow from it. With residual effects from my post-concussion syndrome, my eyesight and sense of self were removed. Ultimately, it forced me to adapt, and to start playing and writing in a different manner."

One such way was using chord variations due to the decline of muscle memory. Focusing on simple, 'to the point' solos, all to avoid getting lost, Nine worked diligently to not only prevent forgetting ideas, but to not to create over-stimulus — which could have potentially worsened his symptoms.

"The first track started at 'the rage' and, vocally, something else came out of me," he recalls of the process. "The harshness and sizzle in my vocals, that usually had to be held back, became paired with this aggressive rock sound my hands now shaped. Grit, and punchy, melodic vocal lines became my style of singing, and I knew I had stumbled onto something and needed to explore this true side of my voice, and myself."

Nine also found the ongoing pandemic was exacerbating his experience and, after returning from a trip to the grocery store, feeling overwhelmed by the situation and its effect on his life, he experienced a breakthrough. "I came home, quickly grabbed my guitar, and played a riff I had never been able to write a melody line for," he recalls. "I started to scream the first verse lyrics and, suddenly, a new style of lyric writing had become available to me."

"fracture" was the first to receive this treatment, with "the rage" and "ghosts" followed soon after.

"'ghosts' was conceived in the idea of telling a full story, similar to the anime openings that had kept me sane and feeling secure the whole quarantine," he shares. "Overall, this was the first time I delved into a more compressed tone, and really learned how to excel as a vocalist. Songs became more about melody and tight structure than they ever had before, and attention was paid to performance and emotion over what was 'correct.' It allowed me to open my writing to darker conversations, and take risks in my songwriting.

"Simply, the EP was there to support me; it was there to give me strength, and make me feel like I could be in the world once more. the heavy represents relentless energy, and hopefully teaches people to look inside and dig deep; to never give up, and never back down."

the heavy — featuring "fracture," "ghosts," and "the rage" — follows additionally available singles "Stitches" and "jawbreaker."
For more on Chris Nine check out:
https://www.instagram.com/heychrisnine/
https://www.facebook.com/heychrisnine
https://twitter.com/heychrisnine