Submitted by Sandy Graham
Due to the pandemic, it's been three years since Chai Lifeline Canada brought the community together for an evening in support of its work dedicated to easing the well-being of children and their families facing life-threatening and chronic illnesses; families that struggled more than ever as COVID-19 compounded their multitude of existing challenges.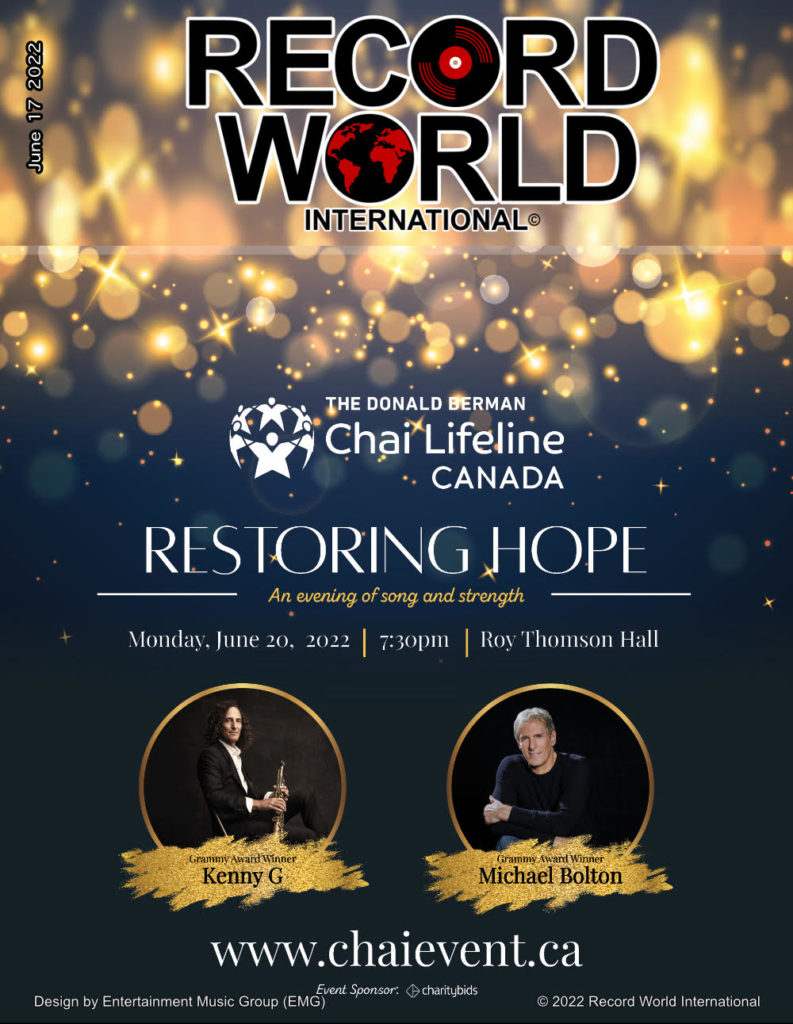 That soon changes as Chai Lifeline Canada Executive Director Mordechai Rothman, Youth Ambassador Jess Rosenbloom, Event Chair Michelle Goldstein Zaldin and a passionate team of event organizers welcome Kenny G, Michael Bolton, and more to Roy Thomson Hall this Monday, June 20th, 2022.
The Restoring Hope: An Evening of Songs and Strength Benefit Concert will feature the long-lauded award-winning music legends alongside Rosenbloom — set to share her story of strength and bravery in the face of pediatric cancer.
Chai Lifeline first met Jess when she was diagnosed with an inoperable brain tumor when she was 10-years-old. She went through all the treatment options – and rebuilt her 'new normal, despite the seizures, weakness, and other symptoms that the tumor kept throwing at her. Jess never let any challenges hold her back. Today, at 18, she continues to face the obstacles that come her way with grace, humour, honesty, and bravery. She is a fierce advocate for childhood cancer and continues to fight with everything she has for herself and for others. Jess and her mother Karen are both part of the Chai Lifeline Canada family and have been tremendous supports to children and parents as they navigate diagnosis and treatment. Jess has been to Camp Simcha and brought the camp spirit back to Toronto as a counsellor at Camp Lifeline and Karen facilitates support groups for parents.
Michelle Goldstein Zaldin became involved with Chai Lifeline Canada in 2011 when her daughter Paige, then 6 years old and who has Cerebral Palsy, started at Camp Aim, which at that time was under the Chai Lifeline Canada umbrella. In 2012, her fundraising efforts began when she spearheaded the 1st of 3 Annual Game On Road Hockey tournaments with the proceeds benefiting Chai Lifeline Canada. As Paige grew and became more involved with the many programs Chai Lifeline Canada has to offer, Michelle too became more involved with the organization that means so much to Paige and their family.
Chai Lifeline Canada Executive Director Mordechai Rothman heads up the Canadian operations of Chai Lifeline, an international organization based in New York, that supports families of children with life-threatening illnesses such as cancer, the children of parents with life-threatening illnesses and those families with members living with chronic illnesses, too. For his work, Rothman was named a Star Metroland Media 2019 Urban Hero Award winner in the Health category, Judge's Selection.
With the release of his self-titled debut album in 1982, Kenny G became the top instrumental musician of the modern era and one of the best-selling artists of all time, with global sales totaling more than 75 million records. His first new album in 6 years, New Standards, features 11 original compositions inspired by the jazz ballads of the '50s and '60s. Kenny is the subject of the new Netflix documentary, "Listening To Kenny G," directed by Penny Lane, and takes a humorous, but incisive, look at the best-selling instrumentalist of all time – and quite possibly one of the most famous living musicians in the world.
Michael Bolton, the multiple Grammy Award-winning singer, songwriter and social activist, has sold more than 65 million albums and singles worldwide with his hits "(Sittin' On) The Dock of the Bay", "When a Man Loves a Woman", "How Am I Supposed to Live Without You", "Said I Loved You…But I Lied" and many more. He continues to tour the world every year, all while writing, recording and taping for a wide array of projects spanning music, film, and television.
Reserved seating tickets range from $75.00 – $165.00 and the all-ages evening will also include silent and live auctions, as well as awards to celebrate extraordinary community service in support of Chai Lifeline Canada. The non-profit organization offers 25 year-round programs and services to children and their families facing life-threatening and chronic illnesses — all free of charge thanks in large part to events like Restoring Hope: An Evening of Songs and Strength Benefit Concert.
Chai Lifeline Canada is a non-profit organization that provides support to children and families who are facing life-threatening and chronic illness. When a child is born with or develops a serious illness, every member of the family and every aspect of every day is impacted. While medical teams at the hospital are focused on the immediate health of an ill baby, child or teenager, Chai Lifeline Canada's team is dedicated to the wellbeing of the patient, their siblings, and their parents.
All of Chai Lifeline Canada's 25 year-round programs and services – from a dedicated Case Manager to therapeutic programs, from social activities to educational support, from family getaways to medically supervised summer camps – are provided FREE of charge.
Restoring Hope: An Evening of Songs and Strength Benefit Concert
Featuring Kenny G, Michael Bolton, and Friends
Monday, June 20th, 2022 @ Roy Thomson Hall